Last month I linked up over at
Things I Can't Say
showing off
the last bump
It was super fun
checking out all the other bumps ~
And now, she is letting us show off all our baby pictures!
I do have a TON of those --
But most of the ones of the older kids are stored in the basement. I am sure I can find some adorable ones of them that I could scan and save and edit and put online, but I have decided to choose a couple of my favorites that maybe have been seen before, but have already been scanned (at least)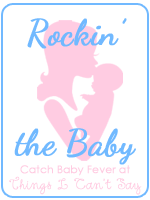 Here is Paige. She is a year old here and only 17 lbs. She is our Little Elf. She was
really bald
up untill around this time, but I don't have a picture scanned of her younger than this!
(maybe I should get on that) Now she is 13.
DJ was about 4 months old in this one. By the time he was six months, he had
tripled
his birth weight and was 20 lbs! He had so much hair he looked like a Little Man ~
He still does even though he's 11 1/2.
Kelly is not quite 6 months here and not quite 20 lbs. She started out the biggest -- at 9 lbs 14 1/2 oz! She is our Sasquatch. Yes, it because she is hairy and has big feet. (she does!!)
She is 5 now and about to start Kindergarten.
Here is Mama's Boy! Mikey at only 2 months old. I don't remember how big he was here, but he was 9 lbs at birth.
He is 21 months now and more Big Kid than Baby.
Oh man, does it go by fast.